Company profile
Company name
イケマンファーム株式会社
Representative
Yoshitaka Ikeda (10th generation)
Foundation
Genbun 1 (1736)
Establishment
March 1978
Capital
100,000,000 yen
Annual sales
440,000,000 yen (August 2020)
Officer
Representative Director and President Yoshitaka Ikeda
Managing Director Akemi Ikeda
Director Akiko Ikeda
Main banks
大阪商工信用金庫
池田泉州銀行
商工組合中央金庫
日本政策金融公庫
所在地
Management philosophy
With the pursuit of both material and spiritual happiness for all employees
By improving the living culture of the world
Aiming to realize a happy society.
Greetings from the representative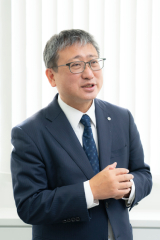 The scope for growth is still unknown
We aim for even greater heights with the theme of "change and continuity."
This is Yoshitaka Ikeda, Representative Director and President.
Steadily accumulating small No. 1 products,
We are sure to become Japan's number one stationery trading company
This is my biggest goal, and it is also the dream of all of our employees.
We want to make your corporate life, where you spend most of your life, a fulfilling place with no regrets.
To achieve this, we will strive to become a company that shines brightly, even if it is small.
Wake up in the morning and be grateful for the work you do, cherish the bonds with your family and co-workers, and
Sharing the wonder and joy of living in the same era,
We want to be a company that is supported by many customers and related parties.